Sweeping Out the Old
By Nadine McCrea | January 1st, 2011 at 9:38am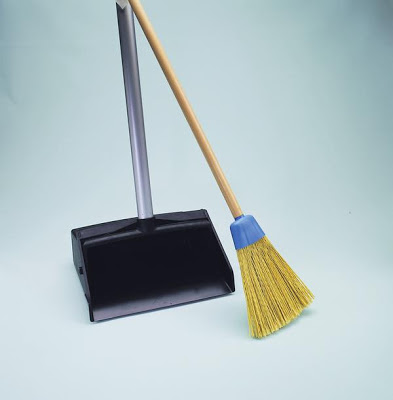 I used to work with a man of Chinese descent and he told me the Chinese prepare for the new year by cleaning the house from top to bottom and literally "sweeping out" the old year. So that is what I am doing today. Goodbye 2010!
And in the spirit of New Year's resolutions, this is what I would like to accomplish this year:
1. Finish the main floor powder room - countertop, sink, faucet and flooring. (Note to self: that list seems rather long after all the work I've already done!)
2. Focus on entry. It is the first place visitors see, and I want to "finish" a space instead of spreading my efforts around. Included is: art, new mat, coat rack in armoire.
3. Work on master bedroom. I haven't touched
anything
in that room. (except for the new headbaord). Why is the bedroom always overlooked? This would include paint for the walls and painting the H.G.'s dresser which is currently being stored in the basement. (tee hee)
4. Complete office - it's just down now to "organizing" (which I love) and then I can give you a full reveal!
5. Build deck outside. Add shed.
2011 Wish List:
New windows
Hardwood floors
On a more personal note, I would like to continue getting into shape. It is taking WAAAY longer than I had anticipated, so I would like to get to my ideal weight in 2011.
This list is totally do-able! I hope you'll follow me this year as I work on The Greenway Project.
Happy New Year!
Nadine
photo via google images
You Might Also Like
Comments (0)
You could be the first person to comment!