Gallery Wall
By Nadine McCrea | September 1st, 2011 at 5:28pm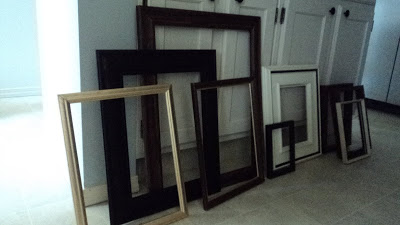 ONE of my major projects this summer was making a gallery wall in my dining room. Because we live in a townhouse (long and narrow) the kitchen is followed by the dining room which is followed by the living room at the back of the house, making the dining room a passageway. The dining room is very small, so I wanted to make the hall wall visually part of the dining area.
I started by deciding which pictures I wanted to use. The only criteria was that each image had to make me smile or evoke a happy memory. I refused to use anything that I felt "should" be displayed. I am sorry to say that I have done that in the past. I decided to make my home truly "rise up to greet me" (thanks, Oprah and Nate) and that I would start with this wall.
Jack asked that there be no "posed" photos. This was difficult because I really wanted to use my mom's high school graduation photo which was a studio shot. I compromised by using mainly natural-looking pictures, even if the subjects were looking into the lens. I also wanted to do mainly black and white images. I didn't stay exclusively with b & w as my mom's picture was colourized. The pictures that were coloured I scanned, saved on a flashcard and took to my local Walmart store to be printed in black and white. A 4x6 photo is only 30 cents!!! Who knew.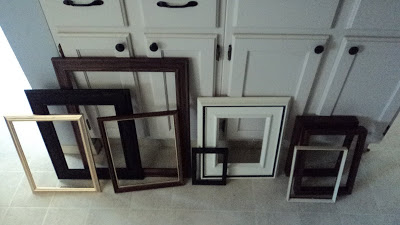 I had frames stored in the basement - some empty and some filled with "beautiful" 80s images of flowers. Yes, that is how long I have been moving them house to house. Don't judge me. But I didn't have nearly enough. My goal was to "NEVER PAY RETAIL". I found most of the rest of the frames at Goodwill for under a buck each. Then I spray-painted each frame in Tremclad Gloss White and the mattes in flat white. Confession time: I did end up paying FULL RETAIL PRICE for some frames. I was at the dollar store and found 4x6 frames with a double mat already in white, so I bit the bullet and spent the $2 each for 6 frames. Sue me.
Now it was time to put my plan into action.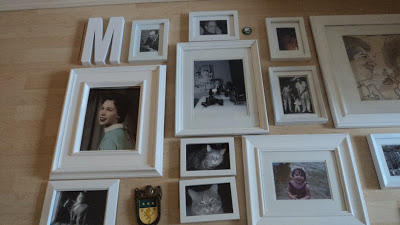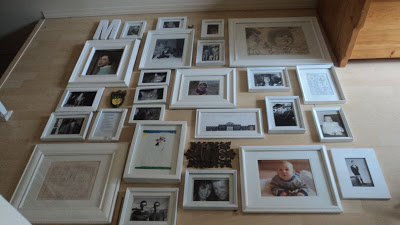 I laid the items on the floor until the arrangement pleased me.
Then I moved everything into the dining room. Duh. Why didn't I put everything on the dining room floor???? Because I like doing everything twice? Then I hammered indiscriminately. Don't look behind the pictures - there are lots of holes ;P (ssshh, don't tell anyone), but I like the freeform style.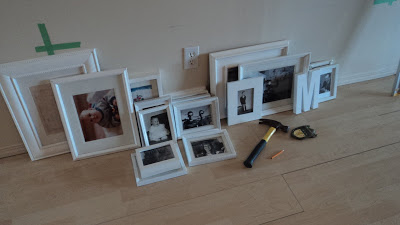 You will notice I also used items that were not photos. This was to add interest and to pay homage to items that had been stored in boxes for decades. Seriously. Decades. I included a door knocker with Jack's family crest, the handles from his TV cabinet growing up - on which he saw the Beatles on Ed Sullivan, the M represents our last name, I have 2 pieces of my children's artwork (even though they're grown up), the lyrics to
our song
, a map showing where our horse ranch was located and, of course, a horseshoe!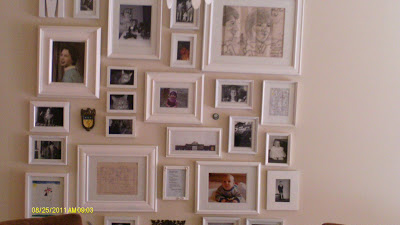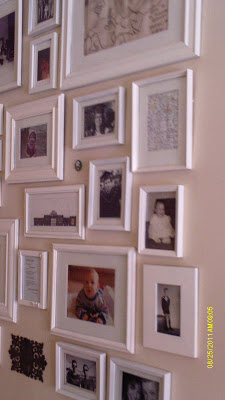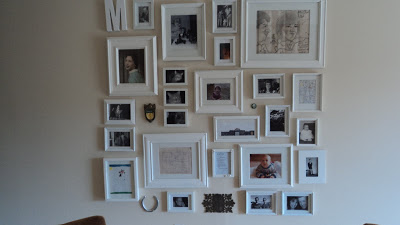 The pictures include old photos of our parents, Jack and me as children, our cats, our horses, and our kids.
And I smile every time I walk by the wall.
And that is what it's all about!
Nadine
You Might Also Like
Comments (0)
You could be the first person to comment!