Wood You Paint It?
By Nadine McCrea | April 20th, 2010 at 2:20pm
This is always a difficult subject to approach in our household. Do we **gasp** PAINT over wood??? Since Jack is working from home today, I posed the question to him. His answer - "Depends". Yeah, that was helpful.

We faced this dilemma in our condo. The sunken living room has a beautiful vaulted ceiling covered in not-so-beautiful cedar planks. Rough cedar planks. It is mentioned in the original condominium specs as a "feature". Have I mentioned the condo was built in the 70s? The original finish was NOT in very good condition. I'm sorry that I do not have a "before" picture to show you; it was too horrific and there is always a chance small children may see this blog.

So here were our options:

1. Lightly sand and restain. Did I mention the ceiling is vaulted? Very, very vaulted?
2. Paint a feature colour.
3. Paint white.
4. Keep talking about it long enough to decide to move thus avoiding actual decision-making.

Number 4 was sounding pretty good to me, but I just couldn't face looking at that ugly ceiling that didn't match ANYTHING in the room.
So, onto Number 1A. Stain in a dark colour. Pros: Wood is beautiful and a dark stain would modernize the look. Cons: Room faces east and is quite dark.
Option 1B. Stain white. Pros: Cottagey, casual. Cons: Maybe a bit too casual for our look.
Both Options 1A and 1B would require either a professional painter and/or scaffolding. Husband is afraid of heights. I scoff at paying someone to do something I can do myself. I blame my parents for this flaw in my personality. Goodbye staining.
Option 2. Quickly rejected. This solution needed to be a long-term one. NOT gonna paint every time I want to change my living room furniture. Which is often. Another personality flaw.
Option 3 - Definite possibilities here. White is light, bright, would cover up most of the planks but leave enough of the texture to keep the ceiling a feature in this room.

So, (drum roll please) what did we end up doing?
Surprise! We painted the planks in the wall colour! Benjamin Moore Gentle Cream OC-96 in eggshell. It LOOKS white. Even compared to the walls! And we didn't even have to cut in! Bonus!

So HOW did we do it? We used a very fuzzy roller, designed for rough surfaces, a heavy-duty primer to block the (remaining) stain, a paintbrush duct-taped to an extender pole, an extension ladder, a step ladder and lots of drop sheets.

After one coat of the primer, it only took one coat of paint! Love you, Aura!

Here are some pictures: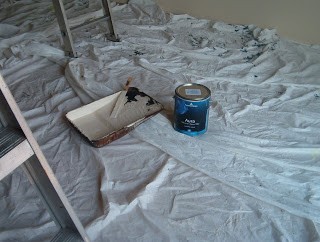 Gotta love the "Macgyver-ed" brush.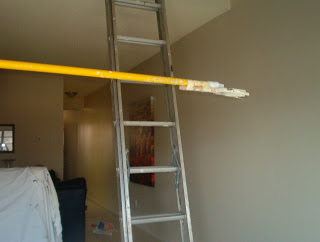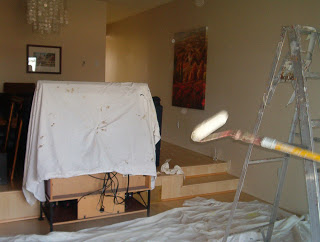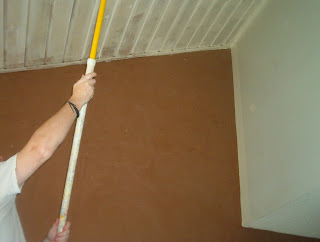 More on that chocolate brown feature wall later.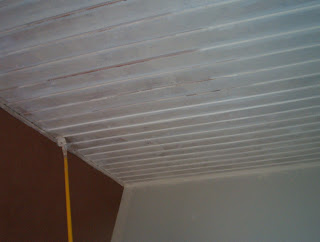 And the finished product.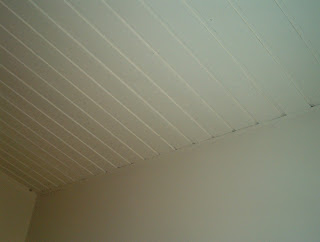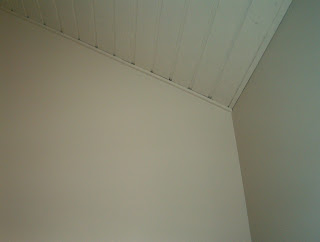 Love it. Will share the completely finished room when the room is, well, completely finished.


Nadine
You Might Also Like
Comments (0)
You could be the first person to comment!