What I learned from my Mom about Interior Decorating
By Nadine McCrea | April 12th, 2010 at 3:26pm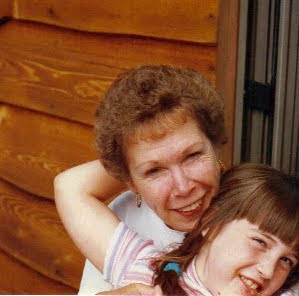 My mom and the Horsey Girl.
My mom would have been 70 years old today. Unfortunately, she left us prematurely and suddenly in 2001. My mother was an original Martha Stewart. She knew how to bake and cook like a professional, her home was always a showplace, and she was the glue that kept her family together.
While we have all drooled over beautiful homes in glossy magazines, my mom taught me that some things in interior design are more important than what your furniture looks like, and I am going to share them with you...
1.Never underestimate the importance of cleanliness to interior design.
Ever seen a dirty, messy room in a magazine? Of course not. Wall colour, flooring, furniture placement all would seem less important in a messy room. My mom was such a neat freak that we kids called her "The Glove", which we shortened from "The White Glove". True story. I have often seen unironed tablecloths in national design magazines! I mean, seriously. I'm sure it is my mother's voice that is making me cringe over that detail. A neat and tidy home is an oasis from the world. Cluttered home, cluttered mind, yadda yadda yadda. (The Horsey Girl just came in and pointed out a dust bunny under the table where I'm typing this. Oops.) This leads to...
2. Take care of the little things.
This means maintenance. Touch up paint. Change the furnace filter. Hammer in that nail that has sprung out for no reason. A well-cared for home shows pride of ownership. Plus, if you ever decide to move, the small jobs aren't overwhelming! My father's career involved a lot of moves over the years, and my parents had to sell a lot of houses over that time. Makes it much easier to put the house on the market if there aren't a bunch of repair jobs to deal with which makes your house look run down and, consequently, get a lower offer on it.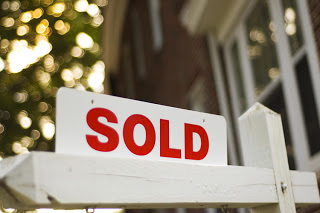 Photo credit:
here
3. Keep the background neutral.
This definitely was important to my mom because of all the moves (who wants to repaint every year or 2 any way?) However, it is easy to update and modernize your look with accessories - much more affordable with a neutral floor covering and walls. Take a look a this photo as an example! The floors are a neutral dark wood and the walls are white, but this room looks blue.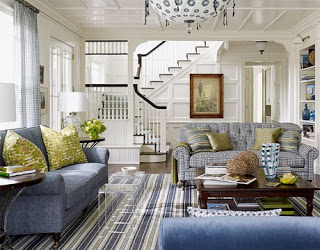 Photo credit: House Beautiful
And finally...
4. People should feel welcome in your home.
A house is not a home without good food, family and laughter around. And wine. Especially wine. So, here's to you, Mom. Happy Birthday. Wish you were here.
You Might Also Like
Comments (0)
You could be the first person to comment!