The Case of the Missing Blogger
By Nadine McCrea | May 11th, 2010 at 11:41am
Where, oh where can Nadine be?

I'm working on my latest project drinking a cup of peppermint tea and reading my latest finds straight from Kijiji!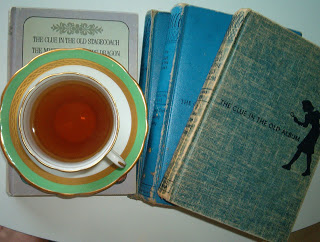 I am a big Nancy Drew fan, so when I saw these beauties I had to have them. And at $3 each, it didn't break the piggy bank. What's not to like? Nancy is smart (even smarter than adults), has titian hair and a blue roadster. How I longed to be her when I was a girl! Come to think of it, I wouldn't mind being her now!
I particularly enjoy the old Nancy Drew books, in blue. The first ones I ever received were from my beloved Aunt Shirley. They were originally hers. The blue hardcover books were printed 1947-1951, while the lighter blue were printed between 1952-1958. The printed book containing The Clue in the Old Stagecoach and The Mystery of the Fire Dragon appears to have been printed in the 60s.

I can hardly wait to dig in!

P.S. The teacup was a gift to me from the mother-in-law of a Canadian Prime Minister.


Nadine
You Might Also Like
Comments (0)
You could be the first person to comment!