It was fifty years ago today.....
By Nadine McCrea | December 26th, 2010 at 12:29pm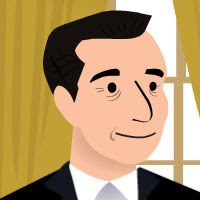 Sergeant Pepper told the band to play
Jack was born! That's him "Mad-Menized" (above).
Yes, today is Jack's 50th birthday. He would rather no one mention it. Ever. Again. And what's worse - his birthday is on Boxing Day. That sucks big time. It is hard to have your birthday and Christmas at the same time. So to give him an even harder time, to give
you
an idea how old 50 really is, let's look back at 1960:
The average house price was $2530.
John Kennedy was elected President of the United States.
John Diefenbaker was Prime Minister of Canada.
A loaf of bread was 20 cents.
A gallon of gas was 25 cents.
The popular films were Ben-Hur and Psycho.
Bil Keane's "Family Circus" cartoon strip debuted.
The Beatles made their debut in Hamburg, Germany.
Montreal Canadiens won the Stanley Cup.
Hugh Grant and Antonio Banderas were born, so 50 is looking pretty good!
Love,
The woman you have shared more than half your life with. So don't kill me. Think of the children. :)
You Might Also Like
Comments (0)
You could be the first person to comment!