Paint By Numbers
By Nadine McCrea | January 5th, 2011 at 10:39am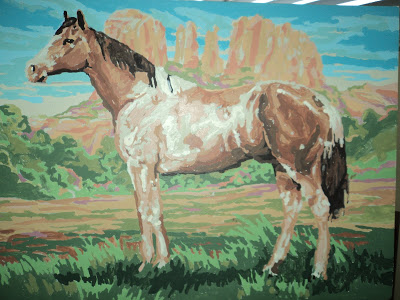 As you all very well know, there is a specific reason why my daughter is called "The Horsey Girl" - she totally loves horses! A few years ago, I picked up a couple of paint by number kits to keep her busy. Way better than TV or video games. She painted these several years ago (and, yes, that IS her work, above) and they are well-done, vibrant and interesting to look at. PBN have gone in and out of fashion, but there seems to be a resurgence in the decorating world. When I was researching this topic on the internet, I found the
Smithsonian actually had an exhibit
on them! Cool! There are also lots of places to buy the kits OR the finished product online. I read a blog several months ago and the writer was searching for vintage PBNs of ships for her house - sorry I can't find it again. (Let me know if you can!).
H.G. has many books on horses and horse care and the logical place to keep them was in our office bookshelf. I placed the paintings behind the books for an interesting visual display. I love the personality they give to the shelves.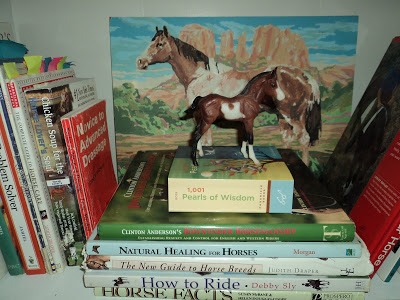 Here is a picture of the entire bookcase.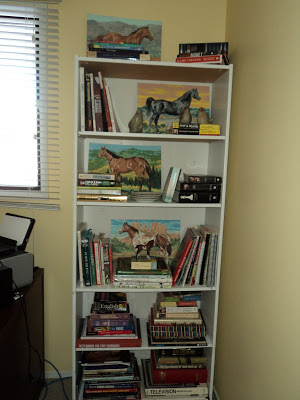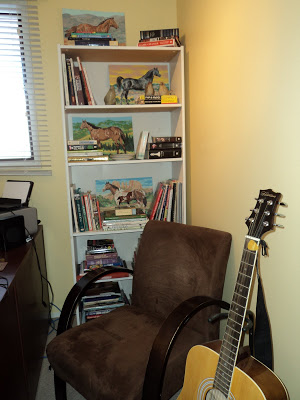 And yes, I know I still need a little "something something" for the wall above the chair...I'm holding out for a 22" flat-screen TV!
Nadine
You Might Also Like
Comments (0)
You could be the first person to comment!