Like Watching Paint Dry, but Worse
By Nadine McCrea | August 24th, 2010 at 8:27am
So yes, I have been AWOL for a while. I know you missed me. Summer called and I have been enjoying the hot beach weather. I promise I will be back in full force this fall with lots of new projects.
This summer we have been working on our powder room. Veerry sloooowly, working on the powder room. Under the heading "Jack must do everything the most hardest way possible", after ripping out the old light fixture, he was left with holes in the drywall which needed to be taped and mudded over with drywall compound. Since he has placed a lifetime ban on me EVER touching the stuff (in my defense, did a few goopy messes really ever hurt anyone?), I now must wait until he has patched the holes, sanded them down and declared the room fit to paint.

Ok, fine, UNTIL he opened up the leftover compound and found - a soupy mess. Why? We'll never know. SO what would a reasonable person do? Go buy a new jug? (I suggested; he rejected). Go buy a box of dry compound and add it to said goopy mess? (I suggested; he rejected). What is he doing instead? LEAVING THE LID OFF AND LETTING IT DRY OUT. SERIOUSLY. I mean that is really cheap-ass. I have been accused of being cheap-assed in my lifetime, but THIS, THIS is seriously cheap-assed. So that is why I do not have a finished room to show you.
THIS is what I have to show you: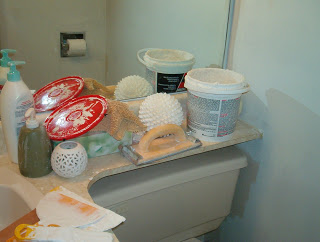 Notice the open drywall compound bucket. Notice the red lid balancing on the tissue box and the starfish. Notice the dust everywhere. Sigh. At least he works cheaply. If not quickly.

Finished room coming soon (I hope!).

Nadine
You Might Also Like
Comments (0)
You could be the first person to comment!