Blue Armoire Love
By Nadine McCrea | May 6th, 2010 at 9:07am
My favourite piece of furniture is my blue armoire. I love it! I love it because, not only is it beautiful, but it is useful as well ( much like my husband, Jack)!
I originally purchased it in the late 90s from Blue Moon Evolution. The link to their website is where they are located now, but back then, the store was in a very cool, very old, brick building in the historical Exchange area of Winnipeg. The owner imported this piece from Mexico and I fell in love with it as SOON as I saw it. It has SOOO much character. It is solid wood and VERY heavy.
And little did I know how much MORE I would grow to love it. This armoire has been in almost every room of every house I have lived in.
It started life as a television cabinet in our living room and then moved to the dining room in the same house as a china cabinet. In our last house, it started out in the (quite large) kitchen as a dish cabinet, and ended up in the master bedroom as clothes storage. Today, it is living in my condo as a front-hall closet. I do not understand WHY the closet was ever removed in the first place. Still scratching my head over that one, but I will build a built-in one one day.
When that happens, my trusty blue armoire will move from its current location, but it will always be somewhere in my home!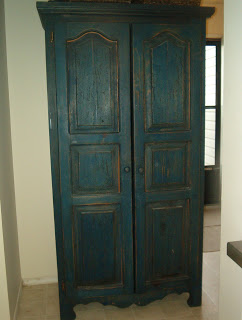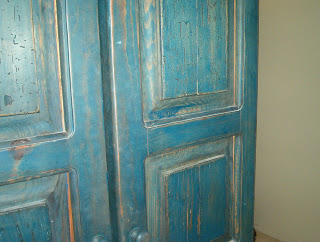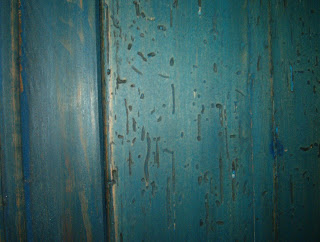 And on another note, a very happy birthday shout-out to our cats - Amelia, Belle, and Milo. They were born 2 years ago today on our farm (that's how I know their exact birthday).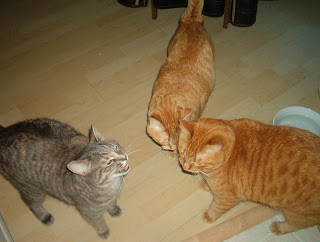 Because no matter how much you love the things in your house, it's those you live with that make it a home.

P.S. These are the fur-babies getting their breakfast this morning!

Nadine
You Might Also Like
Comments (0)
You could be the first person to comment!