A Mini-Project
By Nadine McCrea | April 27th, 2010 at 3:39pm
The weather here in central Canada has been unseasonably warm. So I thought I'd tackle a little (outdoor) eyesore that has been bugging me ALL winter.
When we moved in, the front of the condo had a large (and by large, I mean huge) cedar that was overtaking the entrance. I love trees, and the thought of losing this cedar did not sit well with me, but this tree was so overgrown, it had become a safety issue. The tree hid the front light AND the house numbers. The kids work until dark many nights, and I found that worrisome. Also, if we HAD to call 911 the ambulance would have a tough time finding us. Then Jack mentioned that the tree was big enough for a creepy bad guy to hide behind. This thought totally freaked me out. (Not his intention, but I have a vivid imagination).
So I called up the management company who discussed the situation with the Board (apparently for months) and they finally decided to have the tree cut down. In November.
Now with the tree gone, I could see the lousy job of painting the handy men did when they painted the railings. In fact, they painted AROUND the tree instead of MOVING the branches. Seriously. Totally. Unacceptable.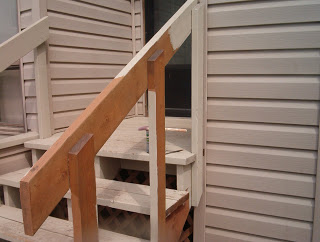 In November, it was too cold to repaint, so although I was assured the handymen would repaint the railings as soon as the weather would cooperate, I had to suffer through months of the unpainted look.
It drove me crazy. And it has now been warm enough to paint outdoors for weeks. I couldn't wait any longer.
So, I took matters into my own hands.
Jack and I headed down to our local McDiarmid store, where they can colour match anything. I took my little piece of peeled-off paint chip. And they matched it perfectly.
Here is my paint can and my favourite paint brush.I use a 2-1/2 inch sash brush for most projects.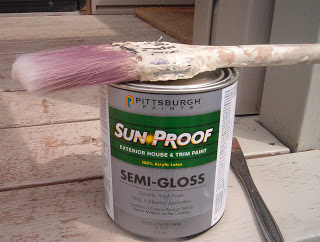 And then I painted the railings.
Happy, happy day.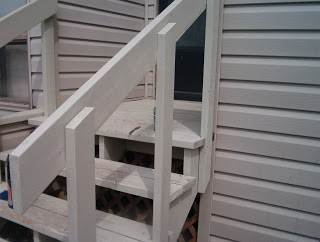 Took ten minutes, tops.

And now, I can dream about the weather being warm enough in a few weeks to put out some pots of flowers!


Nadine
You Might Also Like
Comments (0)
You could be the first person to comment!